Andreas Aristidou
Assistant Professor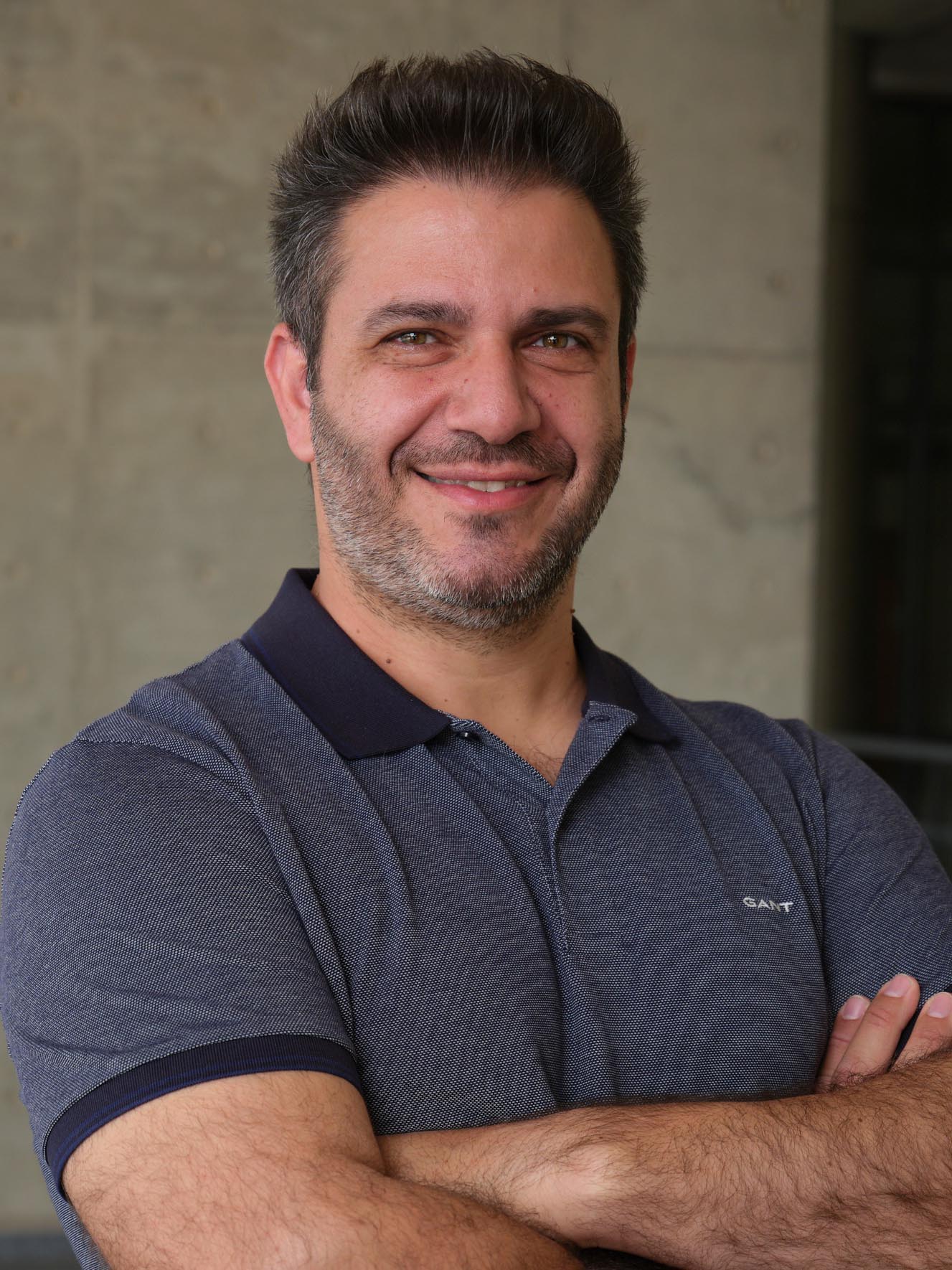 Dr Andreas Aristidou is an Assistant Professor at the University of Cyprus, and a Research Fellow at the CYENS Centre of Excellence with special interest in computer graphics and character animation. Previously, he served as Senior PostDoc Researcher at the Efi Arazi School of Computer Science, The Interdisciplinary Center Herzliya in Israel (2016-2018), the Interdisciplinary Research Center, Shandong University in China (2015), the Graphics Virtual Reality Lab, University of Cyprus (2012-2014,2019), and the Digital Heritage Research Lab, Cyprus University of Technology (2015). He had been a Cambridge European Trust fellow, at the Signal Processing and Communications Laboratory, University of Cambridge, where he obtained his PhD (2011). Andreas has a BSc in Informatics and Telecommunications from the National and Kapodistrian University of Athens (2005) and he is an honor graduate of Kings College London (2006).
His main research interests are focused on 3D motion analysis, classification, and synthesis, and involve motion capture, inverse kinematics, deep convolutional and reinforcement learning, intangible cultural heritage, and applications of conformal geometric algebra in graphics. Andreas is on the editorial board of The Visual Computer (TVC) journal, and serves as an Associate Editor, the Heritage journal (Associate Editor), and the Advances in Applied Clifford Algebras (Guest Editor in Chief). He participated in a number of EU funded projects, and he collaborates with EU creative industries to design innovative algorithm for motion synthesis and character retargeting. Finally, he is the co-author of the FABRIK Inverse Kinematics solver that been integrated in all major game engines (e.g., Unity, Unreal engines, Panda), and published in open-source libraries.
International Program Committee: Eurographics 2022 (Award Jury Chair), ACM-SCA 2022, CGI2022, CASA2022, ENGAGE2022, ACM-SCA2021, CGI2021, CASA2021, ENGAGE2021, ENGAGE2020, ENGAGE2019, MIG2018, ENGAGE2018.
Open Positions at the Graphics Virtual Reality lab
---
Research Associate (with the possibility to be extended for a PhD degree).

Deadline: Remain open until the position is filled

The project «DEMONSTRATION» covers a wide range of multidisciplinary topics that are in line with the recent tendencies in computer graphics, character animation, and virtual reality. It aims at investigating modern trends in machine (deep, convolutional, adversarial, and reinforcement) learning, with ultimate target to provide ingenious solutions for overcoming the current limitations in character animation, and essentials for future improvements in a wide range of ambitious and challenging projects.

More details here in English
PhD positions (Relevant to Research Associate, Full time, 36 months).

Deadline: Remain open until the position is filled

The project «PREMIERE» (Performing arts in a new era: AI and XR tools for better understanding, preservation, enjoyment and accessibility) seeks to modernize the performing arts focusing on dance and theater by using advanced digital technologies to support the whole lifecycle of performances. The overall objective of PREMIERE is to develop and validate a comprehensive ecosystem of digital applications, powered by leading edge AI, XR and 3D technologies, designed to fulfill the needs of diverse end-user communities involved in the main stages of the lifecycle of performing arts productions.

More details soon (please contact me directly)...
Research Software Engineer (Full time, 12 months).

Deadline: Remain open until the position is filled

The ALADDIN project aims at the development of a motion capture technology that goes beyond conventional methods, is cost-effective, and minimizes the risks associated with capturing in dynamic situations. The proposed system is easily scalable and intrinsic, in the sense that measurements are not taken by external devices, enabling efficient capturing in outdoor environments, with state-of-the-art acquisition accuracy.

More details soon (please contact me directly)...
PostDoc/PhD positions in Extended Reality (Relevant to Research Associates).

Deadline: Remain open until the positions are filled

In collaboration with Dr. Fotis Liarokapis, at the Extended Experiences MRG group, CYENS centre of Excellence. Extended Experiences MRG focuses on virtual and augmented environments as well as human-machine interactions generated by computer technology and wearables. Advanced extended reality combines human senses, and it requires new strategies for the design and implementation of novel applications and systems. The goal of this MRG is to focus on three related broad areas including: (a) extended reality, (b) advanced interaction and (c) physiological interfaces.

More details here.
Awards & Funding
---
Research funding (2022-2025) from the Horizon Europe (HORIZON) Call: HORIZON-CL2-2021-HERITAGE-01, Project: PREMIERE (~€4M).
Research funding (2021-2023) from the Research and Innovation center, University of Cyprus, Project: DEMONSTRATION (€60K).
Research funding (2020-2024) from the Horizon 2020 Call: H2020-MSCA-ITN-2019, Project: CLIPE (>€4M).
Awarded the seed grant (2020-2021) by the Cyprus Seeds organization, to commercialize his innovative academic research in motion capturing, Project: ALADDIN (€25K).
Start-up funding (2020-2022) from the Research and Innovation center, University of Cyprus (€50K).
ΔΙΔΑΚΤΩΡ fellowship, by the Cyprus Research Promotion Foundation, to establish research in motion analysis and classification (€125K).
Awarded the nVIDIA GPU grant, to investigate deep learning methods for motion synthesis and analysis, 2017.
Awarded the Erasmus Mundus Grant for visiting scholars (2018) to undertake teaching and research activities in the context of dance as Intangible Cultural Heritage (Choreomundus International Master).
Best paper award at the 12th Eurographics Workshop on Graphics and Cultural Heritage (GCH'14), for the paper "Motion Analysis for Folk Dance Evaluation", co-authors: E. Stavrakis, and Y. Chrysanthou.
Office of Naval Research Global (ONRG) Visiting Scientist Program (VSP) scholarship to visit PhaseSpace Inc. offices in San Leandro, CA, USA, in order to be trained and gain experiences on subjects relative to motion capture (€4.5K).
PhaseSpace Inc. awarded him with a full 8-camera X2 motion capture system, providing the essentials to establish his own motion capture laboratory at the Graphics and Virtual Reality Lab, University of Cyprus. They also donated a multiLED board (hand glove) in order to practise hand reconstruction methodologies on their software (€60K).
Following his novel research in folk dance digitization, Andreas was part of a consortium that has been awarded the DARIAH-EU Theme 2015 in Open Humanities for organizing a workshop on e-documentation of Intangible Cultural Heritage (€6K).
Cambridge European Trust Bursary for PhD studies at the University of Cambridge (€13.5K).